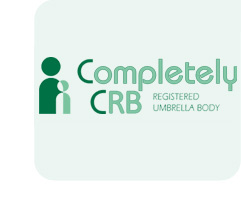 Client Zone: CRB & ISA checks
We run CRB (and ISA) checks on every registered candidate as a matter of course. We also offer this as a stand-alone service, to help you make your own safer recruitment decisions. Completely CRB is our specialist CRB division and a Registered Umbrella Body. The specialist team will:
Give you the best advice before applying

Assist you and get the application right first time

Help you interpret the results
The CRB checking process can seem quite daunting, but our clients return time after time because we make it simple, and our experienced team are at your right hand at every step of the way. Unlike other agencies, we offer a pay as you go, VAT-free service. There are no ongoing contract requirements and no service charges. Simply use us as and when you need us! For further details and costs, give us a call, or visit: www.CompletelyCRB.co.uk.